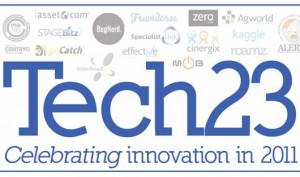 The first presentation from the digital media panel was given by Rob Manson from builAR. Rob took the audience on a journey through the possibilities of augmented reality and the buildAR platform.  He demonstrated cultural implementations, interactive ad campaigns, education concepts and new forms of entertainment, such as Walls360.
The second presentation was David McKinney from Filter Squad. The company has built a range of apps to help consumers find content, such as Discovr Music and Discovr Apps, and has achieved more than 1 million downloads – 250,000 in four days, without a cent spent on marketing. His own background includes promoting one of his own songs into the UK Top 40 just using social media. They've also kicked the butt of Yahoo! along the way. The company is now working on the world's first personalised music magazine that delivers content to you based on exactly what you like.https://bradhowarth.com/wp-admin/post-new.php
The final presentation from the group was from Tony Surtees from Hyperlocalizer, who talked about his company's ability to create highly relevant media using a handful of people. The model has already been proven at Prime Media with 45 sites run by just two people for three years, which also increased user dwell time and television ad sales (in the US the local advertising market is worth US$50 billion and increasing in a down market). Existing Joomla apps can be easily integrated to improve functionality, and the company is finding new clients internationally.