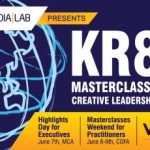 I decided to sit back and enjoy the arts-related presentations that followed on from lunch, so sorry for not posting any thoughts on those four presentations.
The first presentation after the afternoon tea break was from Michael Naimark (@naimark), whose presentation on The Google Glass Controversy took the audience on a rapid ride through the history of interactive technology. He focused specifically on how wearable technology will further accelerate the growth in creation of online data, as the barriers to its creation will fall dramatically.
He also talked about how a failure in communication led to the world believing that Google's StreetView cars killed a donkey in Botswana. Failure to learn lessons in communication may lead to similar controversies at the company rolls out Google Glass.
The next presentation was from College of Fine Arts dean Prof Ross Harley whose discussion of how the STEM concept needs to be augmented with an 'A' and turned into STEAM again raised the question of what can artists do – his answer being 'anything'.
Ars Electronica Future Lab director Horst Hortner (@hoho101) who told the story of the Future Lab as well as showing  a project which will use unmanned aerial vehicles (UAVs) to create illuminated images in the sky, including a Starfleet logo in the night skies over London.