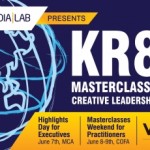 The first speaker for the session session at #KR8Vsydney was Alvin Wang Graylin (@Agraylin), the co-founder of China's Number 1 mobile search and advertising company myinfo. He started by playing a video for his company which actually used the tune from the Dumb Ways to Die campaign, which was interesting to show how that one piece of creative content has worked its way around the world in many different forms. Alvin talked about his career as an entrepreneur, from starting his first computer service business in college with his roommates in 1990 to working at IBM in various roles. Much of his talk focused on the issues that entrepreneurs face in building belief and raising capital, and the struggles they will experience along the way.
Alvin was followed by the chief operating officer of Abu Dhabi-based twofour54, Wayne Borg, who talked about the creative revolution that is sweeping the Arab world as a result of digital technology. He talked about how Saudi Arabia is now the number one market for mobile YouTube downloads, as young people use it as a means to create and express themselves, and how citizen journalism is now a phenomenon in Egypt. 360 million people now live in the Middle East and North Africa, and 55 percent are under the age of 25, while smartphone and mobile penetration is now at 230 percent across the region, creating huge opportunities to develop content.  Borg spoke of how creative and media industries are now one of the key investment areas for the Abu Dhabi government, and his own organisations has been put in place to help develop a talent pool in that sector.
The third speaker was Protein One founder, Galvin Scott Davis (@galvinsd), creator of the Number 1 lifestyle app, business app and kids game on the iPhone in Australia, who talked about the value of asking the question 'why not?'. His latest app is Dandelion, which grew out of a children's story that he created and evolved into a digital app.
The final speaker for the session was Adam Good, director of digital media and content at Telstra Media, who talked about creative leadership. He talked about how many companies are simply not planning for changes to come, and hence may not exist by the time 2020 rolls around. He encouraged the audience to listen more to find new opportunities that will work.