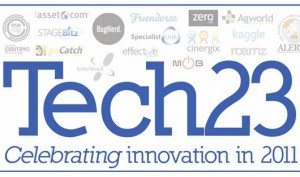 The final session of the day kicked off with a presentation from David Aicken from Centryc Solutions. His company helps the managers of theme parks and festivals to learn more about their customers. Centryc's Metag enables customers to register their wristbands with social media applications such as Facebook and Twitter, and swiping their wristband automatically updates their status and provides them access to offers based on their activity. It is already being used at Luna Park.
The second presentation was given by Bronwen Clune from Friendorse, a service that lets customers ask local questions and get local deals. The company is built on the idea that 80 percent of spending happens within 5Kms of a person's home, and the solution focuses on creating demand by asking people what they want. In the US the site as launched Zipurb, where it is working with a media company, and is also working with a media company to boost its presence in Australia.
The final presentation was given by Jonathan Barouch, who capped the day of well with an informative and entertaining presentation on his company Roamz, which pulls data from across the web and delivers it to users at the right time and in the right place. The engine can look at one piece of data and match it up against other pieces of social content. Roamz is even backed by Sydney chef Tony Bilson.