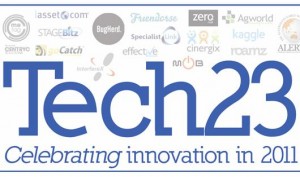 The first presentation after the morning tea break was from goCatch, a company that has developed an app that lets taxi drivers connect directly with users, who can see exactly where taxi drivers are at any time. In a highly entertaining and informative presentation Andrew Campbell and Ned Moorfield took listeners through the problems that plague both taxi drivers and users.
The second presentation was from Dr Mark Reed from InterfereX, who took the audience through a presentation on his company's solution to mobile coverage and data bottlenecks. InterfereX's technology can improve data rates and coverage through better network planning using advanced mathematics to manage interference between cells in a network.
The third presentation was from Dan Nolan of Vtalk Holdings, who talked about his company's development of a voice-over-IP telephone system designed to work with a business's existing telephony system. The company's proposition is that many businesses are failing to adopt VoIP because it is too complex – Vtalk aims to take that complexity away.
It might have been the extra coffee ingested at the morning tea break, but the presenters brought a lot more energy to the room. Interestingly this helped to spark a much greater level of chat on Twitter, with posts reflecting the energy of the presenters.