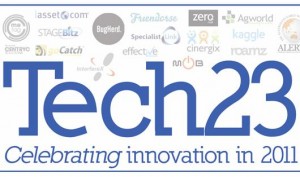 The first presentation of the group was from Alison Hardacre at Specialist Link, which links patients and practitioners to deliver better health outcomes. The service was developed in conjunction with Monash University and enables patients to choose their appropriate practitioners, and then manage their conditions and share this data with practitioners, and between practitioners. Hardacre says most software available today is developed for GPs, not specialists, and rarely goes beyond basic booking and invoicing. By incorporating more functionality, the Specialist Link service can save specialists 12 minutes admin time per patient.
The second presentation was from Guy Sewell at Thereitis.com, which promises a new way to search and experience images online. It takes images from websites  and rearranges them show them in a 3D  grid to make them easier to view and sort. The application is designed to support e-commere companies by reducing abandoned shopping carts and increasing impulse buying.
The final presentation before lunch was from Bart Jellema at ZeroMail. Jellema promises to integrate the many different buckets of information that consumers have – email, newsletters, social media feeds and so on.