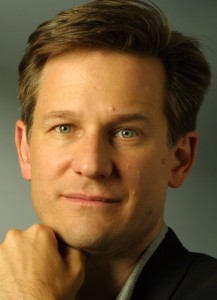 The next speaker was  X Media Lab favourite Robert Tercek, whose presentation focused on the changes that are happening in the television industry. He said that 20 years ago the cable television industry had planned out dozens of new services for sales and interaction, and then did nothing for 20 years.
"While the cable industry did nothing to innovate, you had all this activity happening on the Internet," Tercek said. "All this value was created, but it was not created inside the colsed system of the cable."
He talked about the difference between open systems – which are designed fro value creation – versus closed systems, that are deisgned for revenue extraction. It's the model of cooperation versus coercion. The ultimate expression of this is the wall garden.
But the Internet has torn down the walled gardens online. It is now doing the same thing to the cable TV walled gardens, as consumers start cutting the cords in favour of al la carte offerings delivered over the top of the Internet.
"The companies are afraid of their customers," Tercek says. "And they have reason to be afraid of them, because their customers hate them. Record numbers of peopel are dropping the services."
Increasingly consumers are switching to online video services, with Netflix consuming 20 percent of prime time bandwidth, and other video services consuming another 17 percent, and 40 percent of traffic on 3G networks is video. Netflix has now broken 20 million subscribers. In the 18 months since they introduced streaming video they have switched over 61 percent of their subscribers to that model. It is now closing in on HBO, when 10 years ago HBO could have brought Netflix. Apple and Google have also introduced services, and Amazon has introduced Amazon Prime as a similar service to Netflix.
Tercek describes it as the unbundling of the television industry, as channels are unbundled from packages, and programs are unbundled from channels.
"The power of the socail Web is millions of people doing small things," Tercek said  "If you search for Tahrir Square there were 23 million photos taken in a month. Every minute of the day, a day and a half of video is uploaded to YouTube."
He also called out five trends to keep an eye on:
Audience is data – context is not a proxy for audience. We have the ability to target exactly with precision the audience.
Social TV viewing – yap.TV, GetGlue and Miso – can identify what you are watching and sync up and check in and pull in the Twitter stream.
Remix culture – Disney decided to hire someone who was mashing up clips rather than sue him. Machinima.com is getting 50 million unique viewers per month.
Crowdsource creative – "If you are going to squeeze your margins you are going to have to find new ways to get things done." Poptent is crowdsourcing ads, and MYVS is helping people become video-literate.
Virtual cable operators: ivi TV has turned cable into an IPTV stream – it could also let cable companies transmit outside of their footprint.