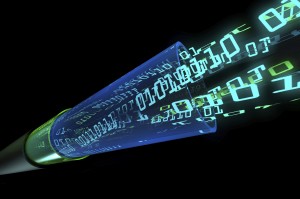 The second session at Broadband & Beyond 2011 kicked off with a presentation from John Wadeson, deputy secretary for ICT infrastructure at the Department of Human Services, who talked about the extremes his department had to go to in order to keep services running through the recent Queensland flood crisis. He also talked about the need to be able to deliver services in any place, any time. He also showed a graph that shows how the number of people logged in to services in any given year have more than doubled in a year.
"If you're not there when the citizen really years you, you're not there at all," Wadeson said. "We have always been on the limit of what the infrastructure can do. My view around broadband, and why we need these things, is that it will facilitate. We need to run big complex applications wherever people are, because that is the nature of government."
The second speaker was Michael Georgeff, chief executive officer from Precedence Healthcare. Georgeff talked about how the NBN may impact healthcare, with a key message that broadband is a rare opportunity to really transform healthcare, but will require a lot more than the healthcare. He talked about how healthcare is really a knowledge enterprise, and many of the negative outcomes are a failure of knowledge.
He also talked about the huge strain that chronic illness places on the medical system, due to its need for long-term planned care involving an care team – with a huge amount of communication (it's another theme picked up in the healthcare chapter of A Faster Future). Only three percent of patients in Australia are currently receiving best-practice care. Michael has been involved in the development of cdmNet, a collaborative Web-based service for managing the entire life-cycle of chronic disease. It's about much more than sharing data.
"Using high-speed broadband we can deliver all of this at the point of care," Georgeff said.
The third speaker was Paddy Nixon, the pro-vice chancellor at the University of Tasmania. He talked about the business opportunity for the university to utilise broadband to improve its offering. He said universities needed to think about a global business model, and one that competed with new learning tools such as Brain Trainer on the Nintendo DS.
And they must also think in terms of  life-long learning, rather than focusing just on highschool leavers. Nixon said that universities were the ideal hosts of life long learning profilies and would be the organisations that assured the awarding of titles. Content is king, but context is key, and learning needs to be componentised and available in an open marketplace and be time-independent.