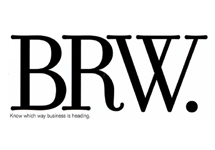 The latest edition of BRW TV sees co-authors Brad Howarth and Janelle Ledwidge interviewed by BRW's Jean-Vida Douglas on the topic of the future of sofware innovation in a broadband-enabled society. In the interview we talk about the impact of broadband and the way that more and more of the actions we perform and the services we use are being mediated by software, and about the rise of collaboration software that is reshaping the way that businesses interoperate and manage themselves.
Other topics include online outsourcing and mobile broadband communications, and exploration of the opportunities for new entrepreneurs to enter the market. For the full interview, click here.
A Faster Future is also referenced in Jean-Vida's story "It's the maganificent seven" in the March 10 edition of BRW, along with profiles of A FasterFuture-featured companies Aconex and MyCyberTwin.